Event Pricing
There is a limit of 1000 participants for this event. Enter now so you don't miss out!
Entry Prices:
Marathon  $60.00
½ Marathon $50.00
10km Run $35.00
5km Fun Run $15.00
Kids  $5.00
Corporate Relay  $80.00
Online entries will close at midnight on 6th December 2018. Late entries will be accepted at registration on the 7th and 8th December with an additional $10 late entry fee.
Online entries will close at midnight on 6th December 2018. Late entries will be accepted at registration on the 7th and 8th December with an additional $10 late entry fee.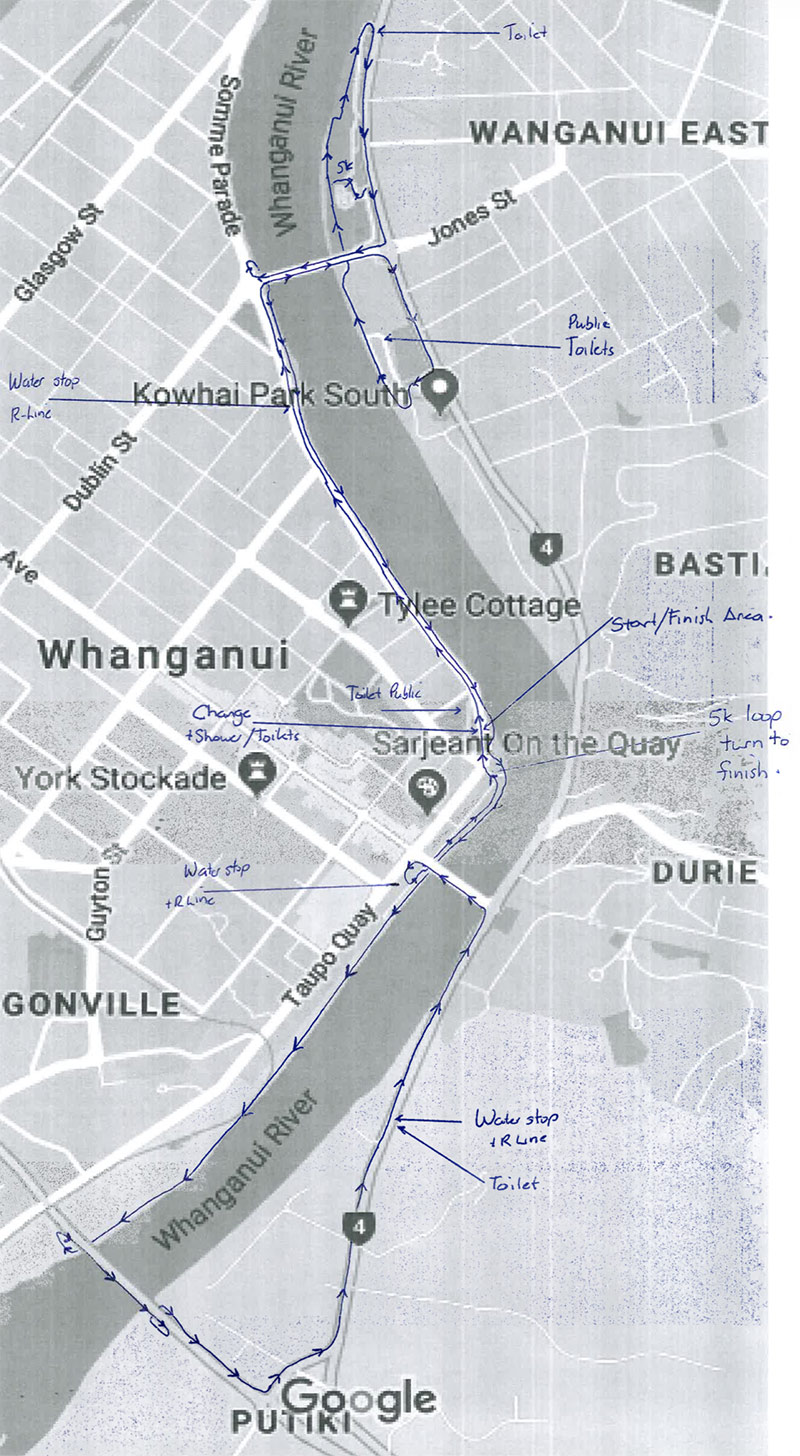 Registration
Race numbers and race packs will be available for pick up from the Union Boat Club, Somme Parade, on Friday 7th of December (5.30pm – 8.30pm) and on race day, Saturday 8th December (from 5.30am)
Race Briefing
A race briefing will be held at the start line 10 minutes before the start of each event
Start Times
Race briefing 10 minutes before the start of your event
6:00am Pak'n Save Marathon Walk
7:30am Pak'n Save Marathon Run
8:00am Property Brokers Half Marathon Walk
8:30am Property Brokers Half Marathon Run
9:00am Lets Go Corporate Relay
10:00am Unichem Whanganui 10k
11:30am The Hits 5k
12:30pm McDonald's 1.2k Fun-run-athon
1:30pm Prize giving
Event / Race Numbers
Please record brief medical details on the reverse of your number
You must pin your race number to the front of your shirt. The timing transponder is attached to your race number
Spot Prizes
Major spot prizes will be drawn at prize-giving and winners must be there to collect their spot prize otherwise it will be redrawn
Early bird and minor spot prizes will be drawn before the event and can be collected with race packs
Event Road Rules
All participants, at all times, must remain inside the marked course and must keep to the footpath if available. Failure to do so could lead to disqualification
Walkers are requested to walk no more than two abreast so as not to impede the progress of the runners or to create a traffic hazard
At all times, you must obey instructions given to you by the Police, Event Officials and Marshals
Accompanying animals are not allowed on the course
Headphones and ipods are not to be used
This course is not suitable for wheelchairs or pushchairs
Age Restrictions
Marathon and Half Marathon competitors / entrants are to be 16 years of age or over
10km competitors / entrants to be 12 years of age or over
1.2km Fun-Run-Athon competitors / entrants to be 13 years of age or under
Competitors / entrants under 7 years of age must be accompanied by a parent / caregiver
Finish Line
At the finish line please follow the directions of the event officials
Time Limit
Official event timing will cease at 1.00pm. Competitors in the Marathon Run can request an earlier start time of 6am if required. Please Note –

 

Those starting early will not be eligible for place medals or merit prizes
This year's events will be timed by The Timing Team
Showers and Toilets
There are showers and toilets available at the Union Boat Club for use on the day of the event
Port-a-loos will also be available at the Start/Finish area
Finisher Certificates
Finishers Certificates will be available to download after the event
For a Meal
Brick House Restaurant
See Mike and Julie at 72 Hill Street, Whanganui
Phone: 06 348 4945
25 Somme Parade Cafe & Restaurant
25 Somme Parade, Whanganui
Phone: 027 549 7141
McDonald's Family Restaurants
314 Victoria Ave, Whanganui
Or 3 Liffiton Street, Whanganui
Pak'nSave Whanganui
167 Glasgow St, Whanganui, 4500
Parking
There is parking available in many surrounding streets, but it will be busy so please allow time to find a park. On Friday only, there is parking available outside the Union Boat Club on Taupo Quay, between Market Place and Bates Street. There will be no parking in this area on Saturday as this is the start/finish area.
Traffic and Event Supporters
An official road closure will be in place from 4am to 4pm along Taupo Quay between Market Place and Bates St, and only official vehicles will be allowed on this part of the course.
It is strongly recommended that supporters not follow the event at any point, by any means of transportation (this includes bikes). Please leave the course free for the participants.
Medical Aid
There will be qualified first aiders available on the course. If you require assistance please request help from any marshal or official. There will also be a first aid kit available at the Start / Finish area.
Results
Provisional results will be posted at the Union Boat Club as soon as they become available and updated accordingly. If you do have a query arising from the provisional results please see one of our officials at the Union Boat club.
Results will also be posted to the event website of www.whanganuithreebridges.co.nz asap after the event.






Join the fun on the 8th December 2018. Enter an event today!